What is
New Holland Electronic Service Tool
?
Electronic Service Tool (EST) Engineering Level* (software only) – used by New Holland dealer technicians to connect with vehicles that have a Controller Area Network (CAN) BUS.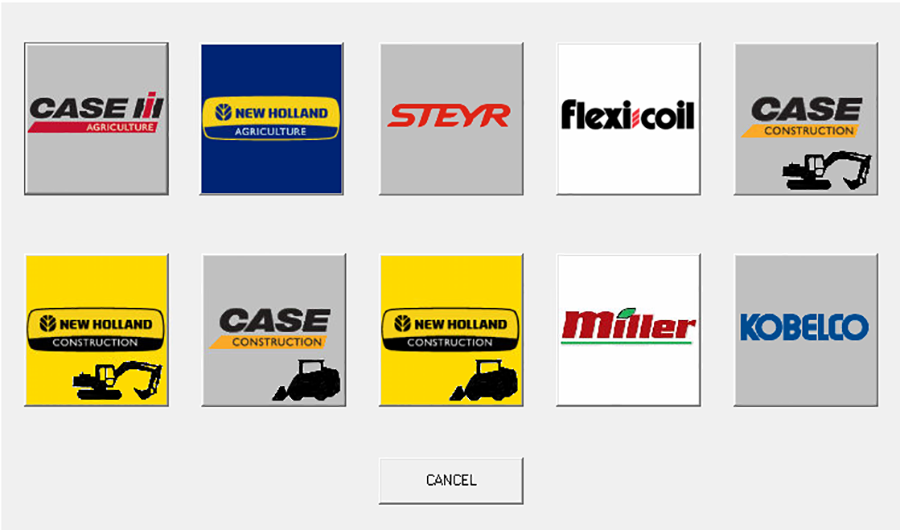 New Holland Electronic Service Tool Function List:
Check the status of parameters;
• Retrieve faults;
• Run diagnostic tests;
• Make ECU and parameter programming;
• Monitor active and logged diagnostics;
• View and change ECU configuration;
• View diagnostic procedures and schematics.
• Troubleshoot problems;
• Use assist database;
• Run scope diagnostics;
E.A.S.y – additional engine diagnostic and download tool for connection directly to ECU to perform diagnostic, programming and ECU reload by K-Line protocol.
CNH Engine Download Tool operates from within the EST program to perform the following engine download operations:
• Provide Engine Control Unit (ECU) programing update capability;
• Provide blank ECU initialization and programming capability;
• Provide ECU programming reassignment for blank and other ECUs;
• Provide ECU download crash recovery.
The brand new version of New Holland CNH EST works with OS Windows 10 64 bit / 11 64 bit, except Home editions). If you have windows 7/ 8, we can offer you a previous version of CNH EST, as the 9.6/9.7 versions no longer support Windows 7 / 8and in some cases won't even loading.
New Holland Electronic Service Tool Support Languages:
English, Spanish, Italian, Mexican, German, Norwegian, Russian, French
New Holland Electronic Service Tool Supported Brands:
New Holland (Agriculture and Construction);
New Holland FK (Fi at-Kobelco);
New Holland O&K (Orenstein & Koppel);
CASE (Agriculture and Construction);
STEYR;
KOBE-LCO;
Iveco (Astra) (articulated dump trucks only);
Flexi-Coil;
Sumitomo (S.H.I.)
New Holland Electronic Service Tool 9.1 Download:
https://mega.nz/#F!WVghzKwY!anc22uzd2t41QLiGgAt88Q
New Holland Electronic Service Tools 9.2(CNH EST 9.2) software
https://mega.nz/#F!2UpnhLSL!b7ptTfnUtQzjRdcef2_z3Q
CNH EST 9.6 Diagnostic Software:
https://mega.nz/folder/59sXha6I#Le4MirE5nmU11SiU5u9fBA
CNH 9.7 software download link :
https://mega.nz/folder/Hi5mWZ7b#FjJb0VlXAL1MMLkSLzK0gA
New Holland Electronic Service Tool 9.2 Update:
Case IH AG:
-New Engine Datasets for the following Machines with FPT engines
oEDC17C49 Engine Controller Datasets
•5802804074 -FARMALL 55A (Tier 4A)
•5802804075 -FARMALL 65A (Tier 4A)
•5802804076 -FARMALL 75A (Tier 4A)
New Holland AG:
-New Engine Datasets for the following Machines with FPT engines
oEDC17C49 Engine Controller Datasets
•5802804074 -T4S.55 / WORKMASTER55 / T3.60F (Tier 4A)
•5802804075 -T4S.65 / WORKMASTER 65 / T3.70F (Tier 4A)
•5802804076 -T4S.75 / WORKMASTER 75 / T3.80F(Tier 4A)
Case CE Heavy:
-Wheel Loaders (Models 521G, 621G, 721G, 821G, 921G, 1021G, 1121G) (Tier 4B / Tier 2)
oColor Display-Vehicle Support (GDSP) software version 1.11.0.0; part number 51447685
New Holland CE Heavy:
-Wheel Loaders (Models W110D, W130D, W170D, W190D, W230D, W270D, W300D) (Stage V)
oColor Display-Vehicle Support (GDSP) software version 1.11.0.0; part number 51447685
New Holland CE Light:
-Wheel Loaders (Models W110D, W130D, W170D, W190D, W230D, W270D, W300D) (Stage V)
oColor Display-Vehicle Support (GDSP) software version 1.11.0.0; part number 51447685